Dry Waste Management :
The Greater Chennai City Corporation in the last three months has encouraged residents and conservancy workers about waste segregation. The Corporation has set up 70 recovery centres for collecting the dry waste which includes metal, rubber, plastic, textile & glass. The waste that gets deposited in these recovery centres located at Corporation Ward offices will be re-segregated and sold to NGOs & small vendors for reuse.
Corporation officials and workers are using this innovative idea to create usable products from waste. This sustainable plan executed by the Corporation can easily improve awareness among the city residents about waste management. Data will be collected and maintained to track the type of waste and retail sales point for the products made from waste to be sold.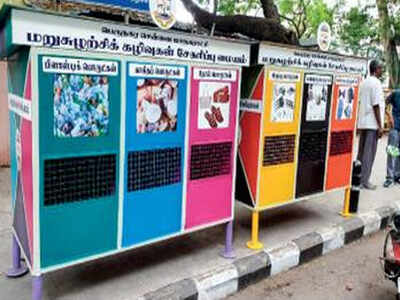 At Valasaravakkam, an environmental enthusiast had crafted a bean bag from shredding thermocol waste. The crux of this waste management idea is to ensure that waste gets segregated. And also propagate the scope of developing high-value products from items deemed waste and worthless.
Instead of depositing all the reusable waste into landfills in and around the city, the Chennai Corporation has initiated steps to tie up with NGOs that can pick up textile waste to make clothes; use glass bottles to make lamps and many more.
Chennai Corporation Commissioner, G Prakash has informed that they would soon set up machinery at recovery centres to shred waste and turn it into industry fuel.